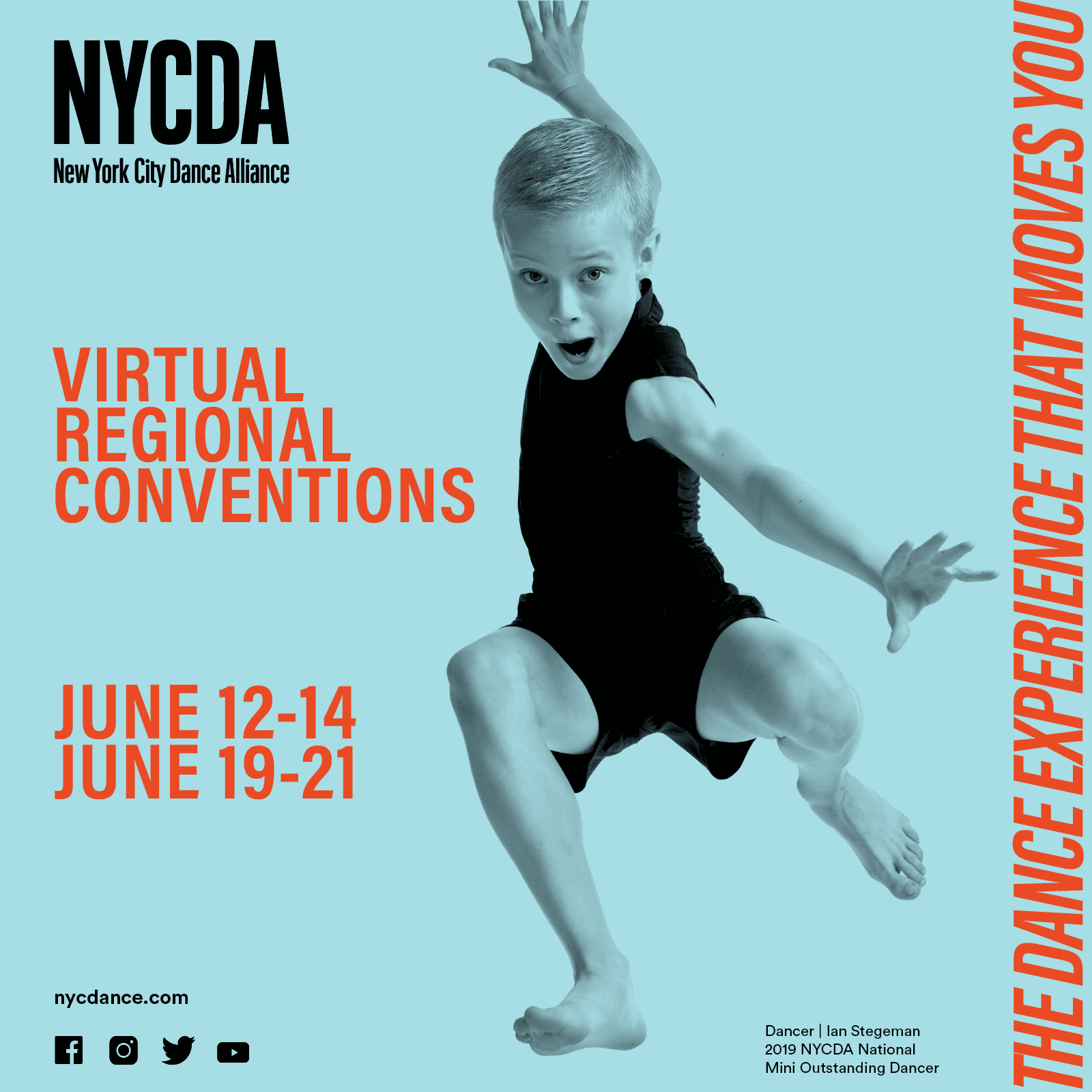 JUNE 19-21, 2020

Friday June 19
6:00 pm EST
Friday Night Sessions / Audition Combos
Saturday June 20
12:00 pm EST
Competition live stream
11:45 am EST

Workshop Classes
2:30 pm EST
Scholarship Audition Videos DUE! Click HERE
4:30 pm EST
Interactive Sessions!
NYCDA Pro Talk / Dance for Justice
Sunday June 21
12:00 pm EST
Workshop Classes
4:30 pm EST
NYCDA Faculty Q & A
Monday June 22
6:00 pm EST
LIVE Competition Awards!
7:30 pm EST
Convention Finale & scholarship announcements!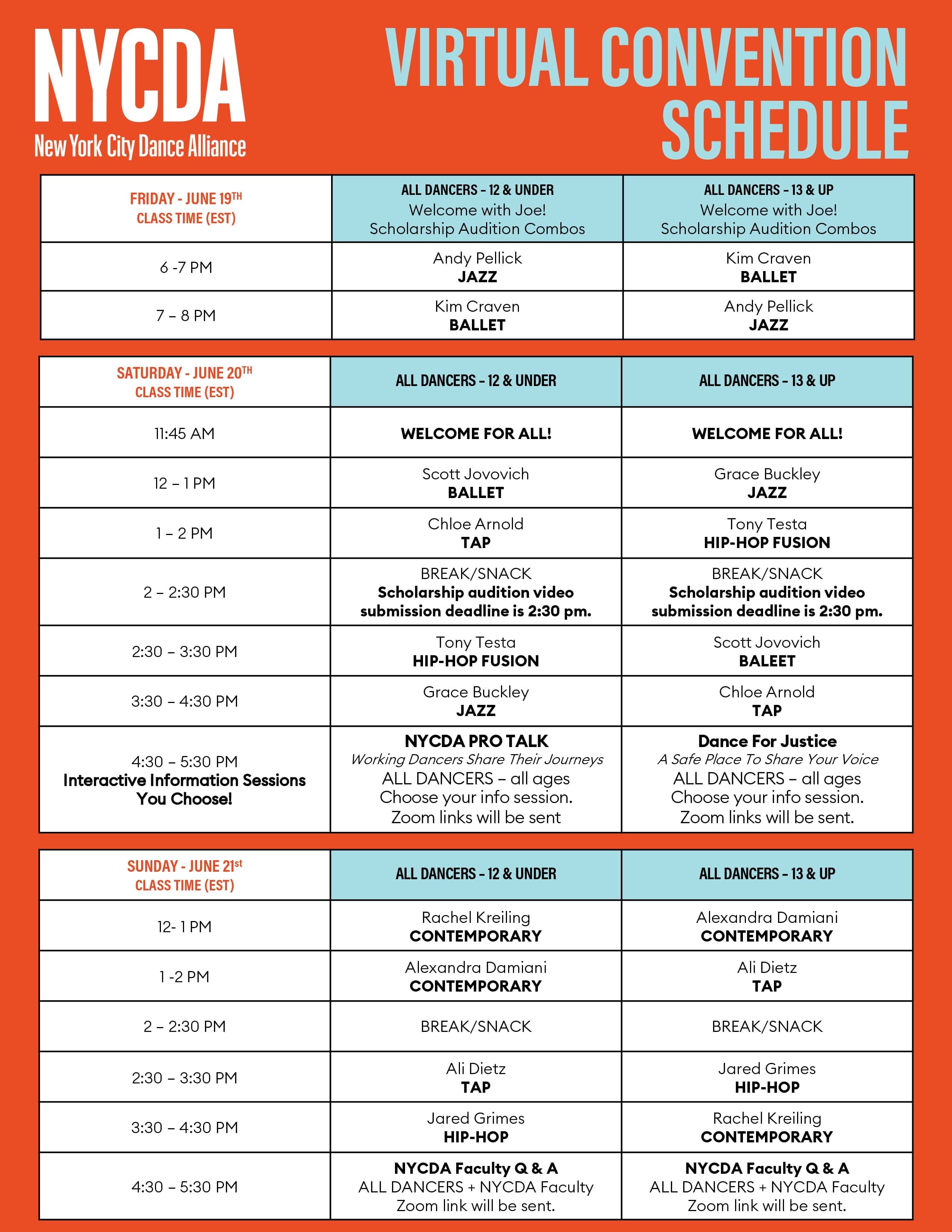 Workshop

Your favorite NYCDA Faculty - different each weekend!
10 classes per dancer, each weekend $99! Includes Friday Night Sessions!
Special Guests and Bonus LIVE Sessions!
Morning Welcome in each "Room"!
Dancers register in Mini, Junior, Teen, Senior workshop levels. . Classes combined for purposes of live stream: Mini/Junior, Teen/Senior
NEW! Online class category for 20+ / Pre-Pro (participate in Teen/Senior classes, not eligible for scholarships)
All dancers registered in their age group are automatically registered for Scholarship auditions
Dancer email required for online link invites, scholarship eligibility
Competition
Workshop registration not required in order to compete
Upload videos – any type! Previous performances, competitions, studio / home recordings. All are welcome!
Unlimited entries , including multiple solos per dancer
$39 per entry – all entries
All dancers will receive individual Award pins. Instead of studio award plaques, a donation will be made to a Covid-10 Relief fund
Live Awards Ceremony following competition (based on schedule)
Awards will include Judges' Standout Awards, Critics' Choice…..and more!
Outstanding Dancer & Scholarship Auditions
Dancers must be registered for the workshop to be eligible for scholarship auditions.
Attend Friday Night Sessions to learn the ballet and jazz audition combos!
Record yourself doing both audition combos. Make sure to introduce yourself on your video! Say your name and studio.
Submit your Scholarship Application HERE. Once submitted, you'll receive an email with link to upload your audition videos.
Upload your videos of both combos (Ballet and Jazz from Friday Night Sessions). Video files must be labeled with your age group (Mini, Junior, Teen, or Senior), name, studio.
Convention Finale (including Outstanding Dancer, Regional Convention Scholarships + more) will be LIVE on Monday evening.

*All unused Regional Workshop Scholarships and Gift Certificates are extended for eligibility next season through May 2021, but are not eligible for virtual events.

Registration is now CLOSED. Email conventionmanager@nycdance.com for late registration.
Register in your existing NYCDA account or create a new one HERE